A. Independence Day Beach Clean Up
ROLE Foundation has held our beach cleanup this year in ITDC Tourism Area in celebrating Indonesia's Independence Day 2018 last Friday, August 17th 2018. This clean up was part of Role Foundation's yearly awareness campaign for Zero Waste to Oceans. The Lush sponsored Beach Clean Up had 150 eager participants from schools, local businesses, NGOs, and individuals mostly from the Bukit, Bali Island.
The bleach clean up was initially scheduled to start at 7 am. However, due to the heavy rains, unusual for the dry season it was postponed until 8 am. Eventually getting underway at 8.30am. The poor rainy conditions during cleaning did not dampen the spirit of participants thou. They actively scanned every square meter of sand, seaweed, and bush for every piece non-organic waste.
The area cleaned of solid waste was the beaches from Geger Beach in the south to Sri Lanka Surf Spot to the north. The two teams met up on Peninsula Island. The non-organic debris picked up along the way was mostly from another areas of Bali, Indonesia and other countries around Asia, which was illegally dumped in the sea, and washed up along the beaches in front of the five stars hotels of Nusa Dua. The worst area of trashes was the corner area of beach in front of Grand Hyatt Hotel Bali. The waste was trapped there with a lot of fabrics and used cloth there.
In the end, we collect around 412 kg of solid non-organic waste composed of plastic bags, plastic wrappings, plastic bottles, straws, fishing tackle and nets and cloth. All of the waste collected were sent to ROLE Foundation, Zero Waste to Oceans – Community Environment and Skills Center for separation, recycling if possible and the balance legal dumped in the land fill by Eco Bali.
B. Viral Video Competition
Viral video competition is a short video competition (maximum 90 seconds) about the effect of waste to human health. This video is open to all ages and the video should take place in Indonesia. This video is part of Eco Youth awareness campaign and Zero Waste to Oceans Conference and in collaboration with Lush Cosmetics.
This competition have started since June 2018 and deadline will be in August 17th, 2018. The winner will be announced on August 24th in Waterman's Awards Night. Over 19 participants join this competition and garnered more than 15 thousand views.
1. First winner of viral video competition is Agus Kusuma Jaya and his team with video tittled "Sampah Plastik Menyerang"


Runner up viral video competition is Retno Kusuma Ningrum, "Apakah Sampah Plastik dan Limbah Berbahaya Bagi Kita ?"


Third winner is Eko Prastiyo with his video "Dampak Pembakaran Sampah Plastik dan Penanaman Kesadaran Lingkungan Sejak Dini"

All the winner got certificate and fresh money. However, only first winner had a chance to come to Waterman's Awards Night.
C. Timeless Photography Competition
Timeless Photography Competition by R.O.L.E. Foundation is an annual photography competition that focuses on black and white photography showcasing the timeless beauty around you. This competition will help raise funds for 'Zero Waste to Oceans – Community Environment & Skills Center' and also part our awareness program.
The winner of the photography competition is Erwin Kurniawan with his traditional market photograph in black and white. His photo appropriately showcases the timeless beauty of human interaction and Javanese culture in the market.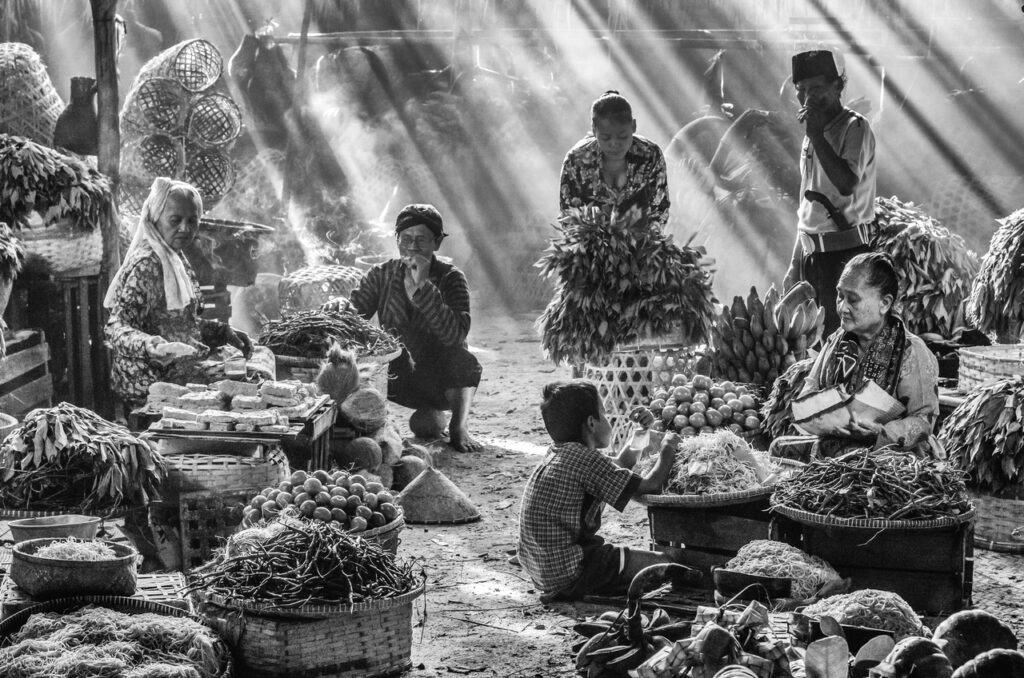 D. Waterman's Awards Night
On Friday 24th, August 2018 around 200 guests participated in R.O.L.E. Foundation's annual Awards night called: Waterman's Awards Night at Zero Waste to Oceans – Community Environment and Skills Center, Sawangan.
Waterman's Awards Night is part of R.O.L.E.'s awareness campaign to highlight the need for clean oceans, reefs, rivers, and beaches to conserve healthy marine ecosystems. Moreover, the event was to celebrate and acknowledge clean ocean defenders, sustainable island and coastal community champions, Watermen and Waterwomen who are mentors and role models for Bali's children and youth.
Bali is facing a massive environmental problem, especially plastic waste which affects marine ecosystems. Every 24 hours, 15,000 cubic meters of trash are disposed along Bali's roads or at illegal dump sites. Enough to fill up six olympic swimming pools every single day.
There are many groups, organizations, NGOs, individuals and businesses that try to solve the waste problem in Bali. Waterman's Awards Night is a platform to give recognition to these brave warriors, who hear Mother Earth's calling.
After an entertaining performance of Bali WISE students, our MC Rama handed over the next award for "Clean Oceans". R.O.L.E. Foundation wants to thanks all the individuals, NGOs, businesses and environmental movements that are happening in Bali:
Lifetime Zero Waste to Oceans Award – Olivier Pouillon, Gringgo
Best Clean Reef Initiative- Green Fins Bali
Best Coastal or Island Community Initiative- Bondalem Eco Village Project
Academics for Clean Oceans – Gede Hendrawan, Marine lecturer and researcher
Academics for Clean Oceans – Hai Dai, Wow Bali
Youth Role Model for Healthy Bali – Dimas Zulkarnaen, Student and activist mentored by Malu Dong Buang Sampah Sembarangan
Best Coastal and Island Community Service – DJ Denton, Scholars of Sustenance
Waterwoman of The Year – Monica Kuhon, movie director and environmental activist
Waterman of The Year – Ketut Menda, surfer
E. Meeting with Klungkung's Regent
We met the Regent of Klungkung and his Chief of Environmental Service. We talked about the environmental problem in Lembongan Island and Bali and its solution that proposed by our partner Carmen from Zero Plastic Lembongan. We also had an enlightening discussion on the effort of Klungkung Government to beat plastic pollution by having partnership with STT PLN and Indonesia Power in TOSS Program and One Day without Plastic. The TOSS program is a waste management based on community where they turn organic waste and plastic to briquette that can be used to replace coal in electric plant.
This meeting is also part of our NGO/Government Awareness program and we hope we could adapt the TOSS program in our environmental center.