On the 23rd of April 2022, R.O.L.E. Foundation in collaboration with Right Reasons Funding organized the ROW FOR R.O.L.E. charity event and a long-distance kayak race from the Hyatt Regency in Sanur to the Grand Hyatt in Nusa Dua.
ROW FOR R.O.L.E. is a community initiative to empower the local community through positive action and it was open to everyone, even those who have never kayaked before. The event called people and companies who are passionate about equal rights and opportunities for women, and an environmentally sustainable future for the island of Bali and our planet.
The financial support is used by R.O.L.E. Foundation to provide education, job training, and empowerment to marginalized young Indonesian women, provide environmental training for children and youth, clean up the coastal waste to create awareness and share knowledge about sustainable waste management to reduce waste going to landfill and oceans.
"Such a beautiful and impactful event! Congratulations everyone who organized, participated, you could feel the good energy around it!"
The day before the race, the participants had already registered themselves at the Hyatt Regency, followed by a safety meeting and a tasty BBQ at the Hyatt Regency. The BBQ was kicked off by Dj Denton, founder of Right Reasons Funding and Fena Evans, director of R.O.L.E. foundation, welcoming the brave participants and introducing Marco Groten from Hyatt, without whom the grand starting and finishing venues would not have been possible.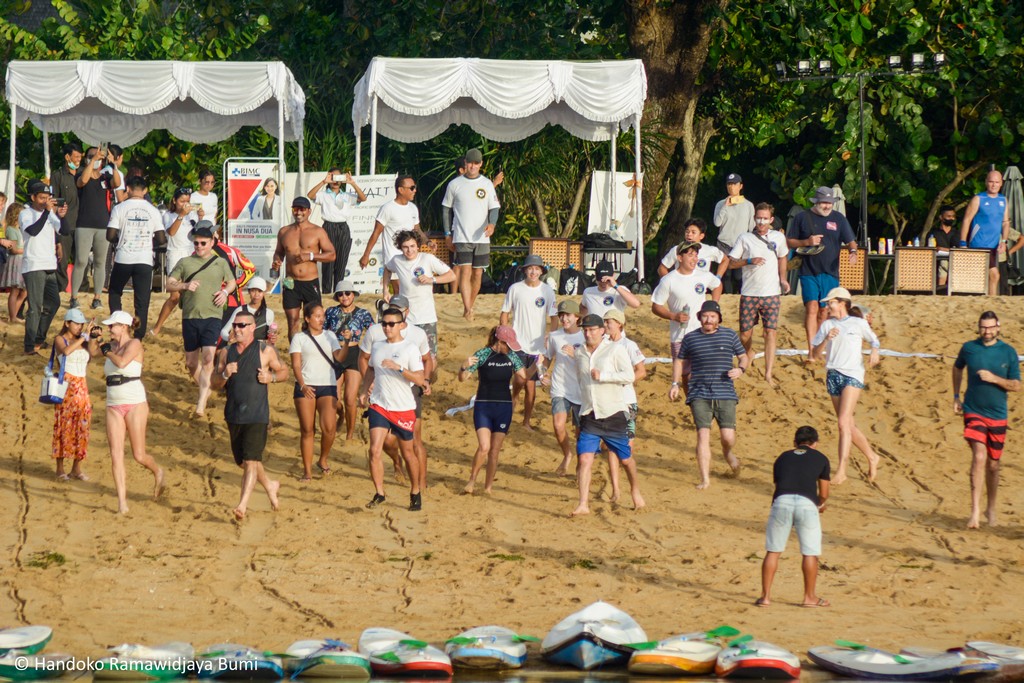 At 7am on Saturday the 23rd of April the countdown started, and 79 participants stood ready at the starting line on the beach, preparing themselves for the run to their kayak and conquer the beach surf to start the 14 km kayaking challenge. The weather conditions were very favorable; clear skies opening to a tangerine sunrise, and the ocean had huge tide swings which created a current pulling southward to Nusa Dua.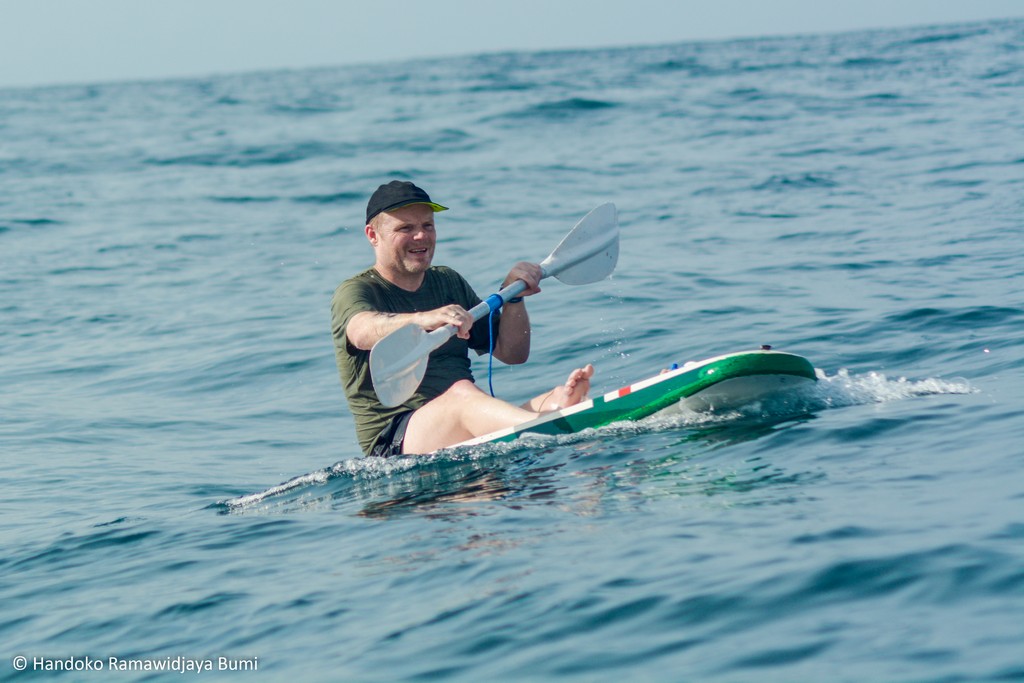 Supporting family and friends of the participants were following the race through live streaming at the Grand Hyatt in Nusa Dua, where the finish line was. The competition was fierce and the participants who were eager to win, had to make a sprint over the beach to the finish line, where they were cheered by Bali WISE students and numerous other spectators.
The last participant finished unexpectedly fast before 10am, due to the favorable current. But the swell was unexpectedly big, so that made for difficult rowing. Some participants capsized multiple times, but were kept safe due to the safety provided by Bali Lifeguard Association.
After the kayak race, the ROW FOR R.O.L.E event featured a brunch, an award ceremony, a silent and blind auction, raffles, a market, a Balinese dance performance by young children, a live band Modjorido, and had an absolutely great vibe. Most participants and attendees were in agreement it was the best event in a very long time!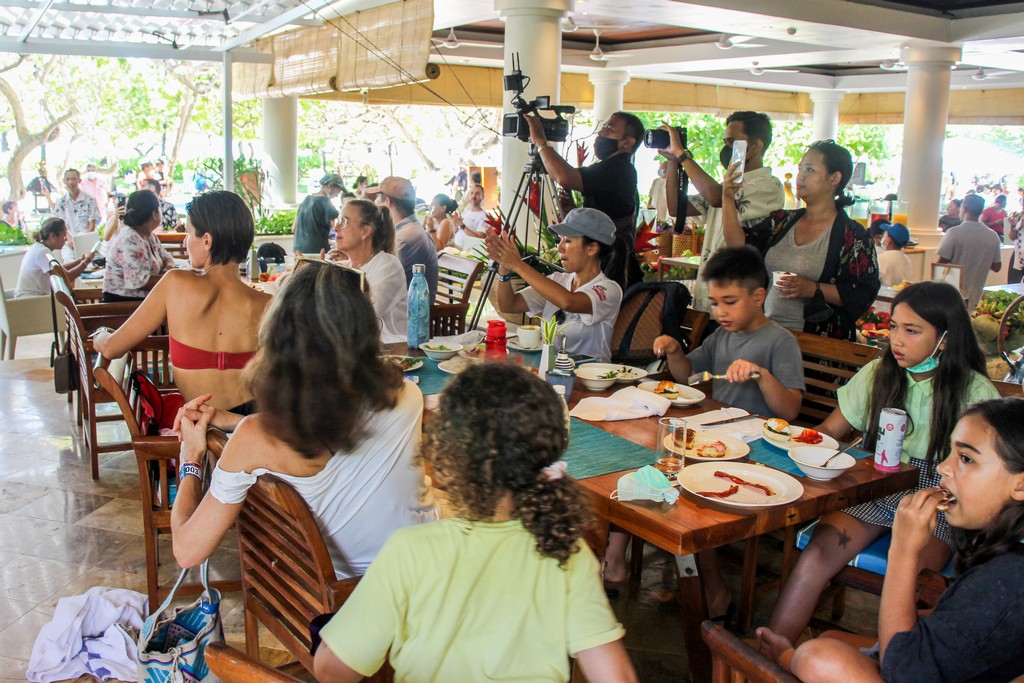 An amazing total amount of over IDR 900.000.000 was raised through sponsorships, donations, auction biddings, and crowdfunding participants. And even now, donations are still coming in. R.O.L.E. Foundation wishes to gratefully thank all of them, and a special thank you goes out to Hyatt, in particular Marco Groten and Zulki Othman, being the main sponsor of ROW FOR R.O.L.E. and provider of the venues for the charity event and the Hyatt 2 Hyatt kayak race. Another special thank you goes out to FINNS for their very generous support.
Participant's quotes
"It was quite a ride!!! We definitely had a challenge paddling with that current on those little boards!!! It may have been fast but it was furious. Well done everyone. Especially those who were tipped off, got back up and finished the race. "
"Well done amazing people. It was a pleasure and honor to be a part of such an epic event. Congratulations to all the winners and everyone who made it through the finish line. It was a fast and furious paddle!!! The fundraising results were next level and the team of organizers incredible!! Thank you."
"What an incredible morning and spectacular achievement! I'm so glad to be part of it and thanks again for organizing the dolphins."
"Heeeey, it was sooooo cool! Loved the event. Thanks for organizing, everyone who took a part in it. R.O.L.E. Foundation team, you guys awesome! Safety crew, content makers and all administrators. Big thanks to all the sponsors as well! Of course, all of us rowers, we all made it happen !!"
"A Great event for a Great cause, Big thanks to all of you who put this together. Looking forward to the next one!"
"Such a beautiful and impactful event! Congratulations everyone who organized, participated, you could feel the good energy around it!"
"One of the best things I have done in this year! Thank you all for the incredible energy & vibes."
Prize winners:
Fastest Male Rower
1
Hazel Devanda (Green School Bali)
1:20:00
2
Rory Koch Callaghan
1:20:42
3
Bobby Melville (Bali Bulldogs)
1:21:14
Fastest Female Rower
1
Katherine Huskinson
1:25:01
2
Elena Shevchuk
1:25:41
3
Jill Robinson (Canggu Community School)
1:26:08
Fastest Groms Devision
1
Rik Beugel (Canggu Community School)
1:32:25
2
Oliver Schaap (Canggu Community School)
1:32:26
3
Andrew Kaman (Canggu Community School)
1:34:32
Fastest Big Kayak
1
Mark Tulloch
1:27:35
Best Fundraiser
1
Austin Jones
USD 5,050
2
Kathi Van Koerber
USD 3,360
3
Mark Tulloch
USD 3,442
Would you like to contribute?
During the pandemic, the ZeroWaste Center by R.O.L.E. Foundation had to shut down or downsize many of the environmental programs. Now that the tourism sector is picking up again, the ZeroWaste Center will restart and expand these programs and is preparing to reopen for public. We are so grateful for the generous contribution companies and individuals made through the charity event.
If you want to make a contribution to provide education to public-school children and youth around sustainable waste management, and other environmental activities to create awareness about sustainable waste management amongst the local communities to reduce waste going to landfill and oceans, please visit our website: https://zerowastecenter.org/donate/. Thank you so much!