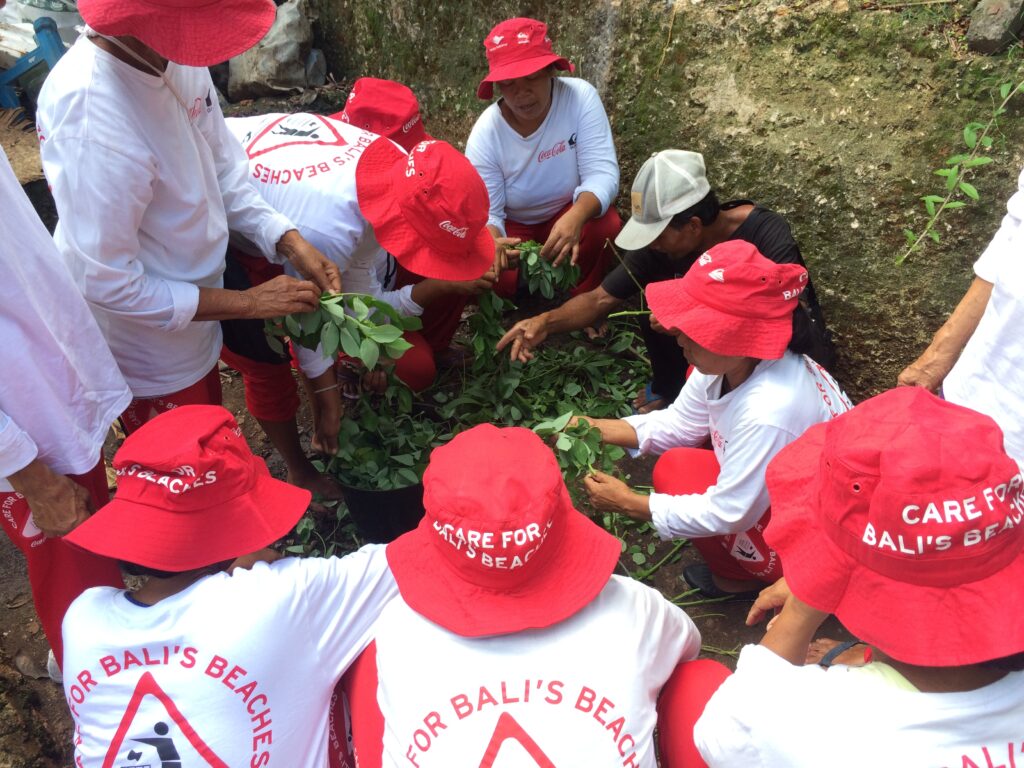 Wednesday, 14th Nov 2018. Environmental Training with Jimbaran Beach Cleaners. Thirteen beach cleaners from Jimbaran Beach joined us today at Zero Waste to Oceans – Community Environment and Skills Center to learn more about sustainable practice from waste management to sustainable jobs as a part of Coca-cola CSR program. They were enjoying the new atmosphere and we had a lot of discussion regarding sustainable practice with them.
Composting and waste management are not something new to the participants as we've been working with them from more than a year on this. However, in this opportunity they have hands on experience in creating compost, seedling, seed balls, making soap, identifying plants and herbs, natural dyes and traditional weaving. It the end, it was more sharing experience in more relaxed atmosphere.
Bahasa Indonesia
Rabu, 14 Nov 2018. Pelatihan Lingkungan dengan Petugas Pantai Jimbaran. Tiga belas pembersih pantai dari Pantai Jimbaran bergabung dengan kami di Zero Waste to Oceans – Community Envrionment and Skills Center untuk belajar lebih dalam tentang praktik-praktik ramah lingkungan dari manajemen sampah hingga pekerjaan yang berkelanjutan yang merupakan bagian dari CSR Coca-cola. Mereka sangat menikmati suasana baru dan kami juga banyak berdiskusi dengan mereka tentang praktik-praktik lingkungan berkelanjutan.
Pembuatan kompos dan pengolahan sampah bukan hal baru bagi para peserta apalagi kami sudah bekerja dengan mereka lebih dari setahun dalam bidang ini. Meskipun begitu, di kesempatan kali ini mereka mendapatkan pengalaman langsung dalam membuat kompos, pembibitan, bola bibit, pembuatan sabun,mengidentifikasi tanaman dan herba, pewarna alam dan tenun tradisional. Pada akhirnya, ini lebih kepada tukar pengalaman di suasana yang lebih santai.