On January 4th, 2018, we visited the Tarum Bali factory in Blahbatuh village, in the region of Gianyar. Here, a variety of textiles like scarfs, carpets and clothes are produced environmentally friendly and sustainable by only using natural dyes and traditional weaving techniques on classic weaving looms.
Realizing how much harm synthetic colors and mass production of so-called 'fast-fashion' are causing to Bali's environment and traditional textile production, Tarum Bali specialized on ecologically friendly dyeing and weaving techniques already almost two decades ago.
All their numerous colors are results of plant-based natural dyes which are extracted from various leaves, like indigo from tarum leaf, red from secang wood, yellow from mango leaf, brown from mahogany leaf, black from ketapang leaf and many more. The leaf waste is easily composted and returned to the soil whereas the biodegradable wastewater is discharged into surrounding land.
Currently, there are 30 people employed at the Tarum Bali factory and their facilities comprise some unwind stands for the imported raw yarn from Java and China to be unrolled and prepared for the dyeing process as well as a big dyeing area where the threads are soaked in the natural dye for up to eight times, depending on the desired color intensity.
Furthermore, there is a spacious weaving area with at least 10 weaving looms and 4 spinning wheels where we had the chance to watch some women working on the looms, making colorful carpets and scarfs.
Giving women from the nearby village the opportunity to be in safe and formal employment while at the same time preserving Bali's beautiful dyeing and weaving traditions, Tarum Bali is on the right path to make a difference in the textile industry by combining social responsibility with environmentally sustainability.
And since we are all in the same boat, we went back to our BaliWISE headquarter with some valuable impressions and inspirations about how to expand our own natural dyeing and weaving projects. Currently, we possess three weaving looms where our dedicated Balinese ladies produce our unique natural dyed scarfs. Presently being focused on these scarfs only, we realized the immense potential of expanding our product range. May it be carpets, blankets, pillowcases, shirts, pants, skirts or jackets – the variety of textiles is enormous and just waiting to be made by our skilled dyeing and weaving experts!
Also regarding our natural dyes themselves, we see chances of expanding our repertoire of colors. Now, we dye our scarfs with six different colors: light red, dark red, yellow, brown, blue, green. Imagine how beautiful and diverse they will look after mixing them, endlessly creating new tones!
We are thankful having been offered such an interesting insight to Tarum Bali by their welcoming staff and looking forward to the advancement of our own program for women's sustainable jobs and business development.
Learn more about our Sustainable Jobs and Business for Women Program by Clicking Here
---
About the Writer: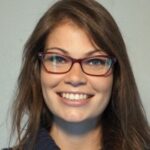 Miriam Scheibe is from Germany and currently studying Social & Cultural Anthropology with a regional focus on Southeast Asia at Freie Universtät Berlin, Germany. Miriam is driven by the conviction that to create a better and fairer world for everyone, it is absolutely essential to work towards global gender equality. Promoting women's economic empowerment through provision of skills and business education is one of the many crucial steps to achieve this goal. That is why Miriam interning at Bali WISE for 4,5 months and support the advancement of their Women's Business Education & Development Program.