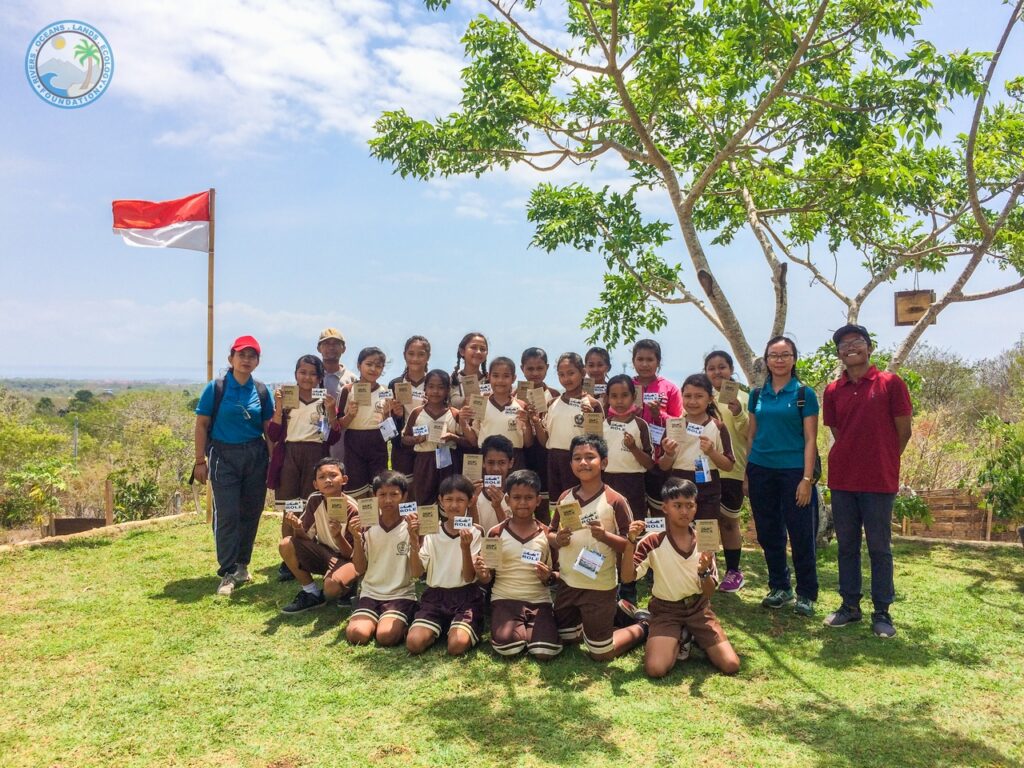 Saturday, 27th October 2018. Public School Healthy Environment Training Program. We held second half day training for twenty students of SDN 2 Tanjung Benoa aged 10-12 years old about Waste to Wonder at Zero Waste to Oceans – Community Environment and Skills Center. This bring the total trained students to 6888.
Students received eco passport sponsored by DPG Nusa Dua and explained about environmental problems in Indonesia and the importance of our role to solve it. They were taught about waste management, types of plastics, 3R behavior, had a chance to make compost and seedlings, learnt companion planting and smelling the difference types of herbs. The students also taught about the process of natural dyes, traditional weaving, and soap upcycling from the used soap of hotels and resort in Bali.
The students were given questions during refreshments time and received stickers for true answer. The training was closed by taking group photo and promise to keep Bali green, clean, and healthy.
Bahasa Indonesia
Saturday, 27 Oktober 2018. Program Pelatihan Lingkungan Sekolah Sehat. Kami mengadakan pelatihan kedua selama setengah hari kepada dua puluh siswa/siswi SDN 2 Tanjung Benoa umur 10-12 tahun tentang 'Waste to Wonder' di Zero Waste to Oceans – Community Environment and Skills Center. Total siswa/siswi yang dilatih hingga sekarang menjadi 6888.
Siswa/siswi mendapatkan eco passport yang disponsori oleh DPG dan dijelaskan tentang permasalahan lingkungan yang ada di Indonesia dan pentingnya peran kita untuk menyelesaikannya. Mereka diajari tentang pengolahan sampah, macam-macam plastik, perilaku 3R, membuat kompos dan pembibitan, belajar pertanian dengan tumpang sari dan membedakan rempah-rempah. Siswa/siswi juga diajar cara membuat pewarna alam, tenun tradisional, dan daur ulang sabun dari hotel dan resort di Bali.
Mereka mendapatkan pertanyaan waktu istirahat dan mendapatkan stiker untuk jawaban benar. Pelatihan ditutup dengan berfoto bersama dan janji untuk menjaga Bali hijau, bersih dan sehat.