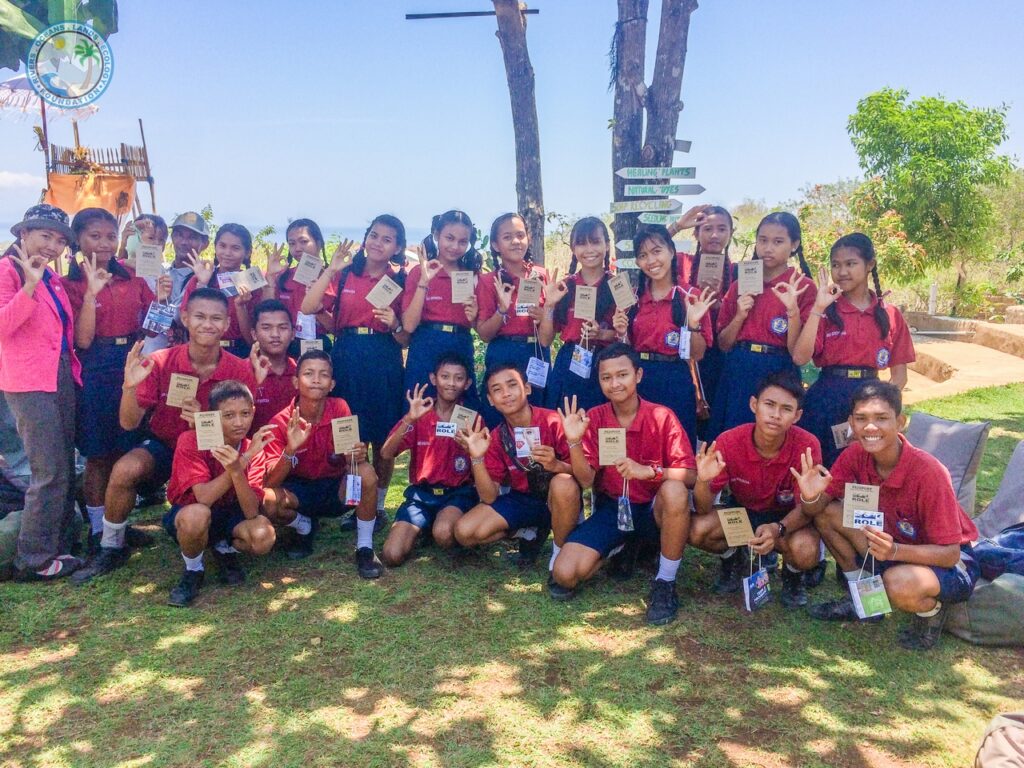 Tuesday, 30th October 2018. Public School Healthy Environment Training Program. We held second half day training for twenty students of SMP Nusa Dua aged 14-15 years old about 'Think Global Act Local' at Zero Waste to Oceans – Community Environment and Skills Center. Thus bring the total trained students to 6908. The students coming for today's session are members of OSIS or Students Council in their school.
All students received eco passport upon arrival and given explanation if the environmental state in Bali, Indonesia; waste, deforestation and pollution. Students then learnt about waste management, composting, seedlings, seed balls, type of plants and companion planting. After that they went to natural dye station, traditional weaving, and soap upcycling.
The training finished by having refreshment, discussion, and review about the materials given. Students who gave correct answer received ROLE Foundation stickers. The training was closed by having group photo and promised to keep Bali clean, green, and healthy.
Bahasa Indonesia
Selasa, 30 Oktober 2018. Program Pelatihan Lingkungan Sekolah Sehat. Kami mengadakan pelatihan setengah hari kepada dua puluh siswa/siswi SMP Nusa Dua umur 14-15 tahun tentang 'Think Global Act Local' di Zero Waste to Oceans – Community Environment and Skills Center. Menjadikan total siswa/siswi yang dilatih menjadi 6828. Siswa/siswi yang datang hari ini adalah anggota dari OSIS.
Semua siswa-siswi mendapatkan eco passport ketika datang dan diberi penjelasan mengenai keadaan lingkungan di Bali, Indonesia: sampah, penebangan hutan, dan polusi. Siswa-siswi kemudian belajar mengenai pengolahan sampah, kompos, pembibitan, bola bibit, jenis-jenis tanaman dan tumpang sari. Setelah itu mereka ke bagian pewarna alam, tenun tradisional dan pengolahan sabun.
Pelatihan diakhiri dengan istirahat menikmati jajanan tradisional dan minuman, diskusi dan review mengenai materi yang sudah diberikan. Siswa/siswi yang menjawab dengan benar mendapatkan stiker ROLE Foundation. Pelatihan ditutup dengan foto bersama dan janji menjaga Bali bersih, hijau dan sehat.