12th October 2019 was our 6th Waterman´s Award Night Anniversary and we are very thrilled about it because again it was a great evening and a complete success. First of all the venue was just a dream it was located directly in Front of Sanur Beach in the Fairmont Hotel at Pier Eight and our 150 guests felt right at home.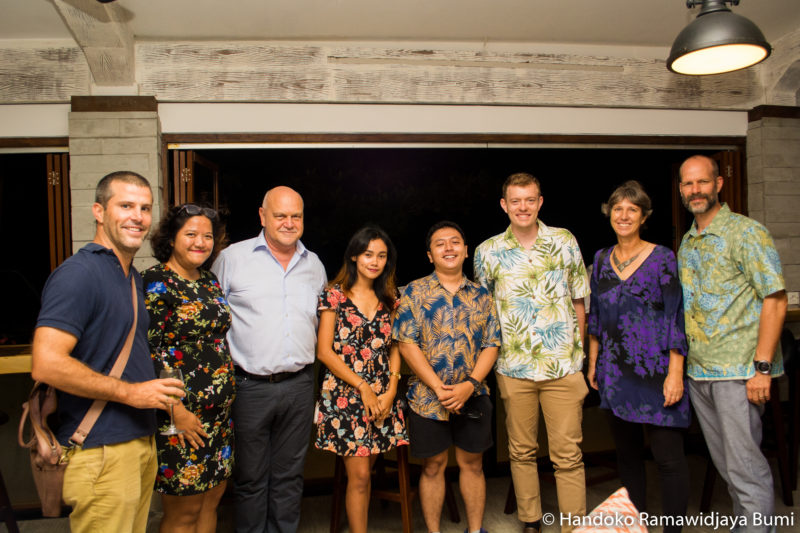 R.O.L.E. Foundation wanted to make this night to be the night that is remembered forever. So, we gave all of our guests a special present to bring home. This goodie pineapple bag contains all the products we made at the Zero Waste to Oceans Center, such as organic aloe vera, seed ball, naturally dyed tote bag, and upcycled soap. We also give two more special items by Sari Api ceramics and The Eco Initiatives inside our goodie pineapple bag. All items inside this goodie pineapple bag, represent R.O.L.E. Foundation programs and what we are doing to make a difference. Our guests are thrilled to have these amazing items with them to bring back home.
It was an exuberant boisterous mood among the guests and so the award night with many interesting Award Winners, Performance Shows and Live Band could be opened punctually at 19:00 by our highly esteemed MC Edward Speirs. Right after the MC opened the event, R.O.L.E. Foundation Advisor and Board Member, Mr. Rory Callaghan came up on stage to explain more about R.O.L.E. Foundation programs. Followed by
Mr. Niall Cowan came up on stage, the Hotel General Manager of Fairmont Sanur Beach, Bali to welcome the guests and wish us all a nice evening.
To support our MC Edward we had this time three Award Presenters by his side. We had Ms. Rili Djohani, Mr. Steve Palmer and Mr. Rory Callaghan, all three are committed to making our world better and fairer every day.
This year we had presented 13 Nominees in 12 categories, the first award Part was presented by Mr. Steve Palmer. Our first award winner was "Zero Plastic Lembongan" they won the Award for the Best Coastal or Island Community Service. The next category was "Best Coastal and Island Community Service" Award winner was the NGO Kopernik. The "Lifetime Zero Waste to Ocean" Award took home Bali Fokus/Nexus, and the "Zero Waste to Landfill" Award won Alila Villas Uluwatu this time. Last Award Winner in the first Award Part was Zero Waste Bali they won the "Zero Waste Business Model" Award.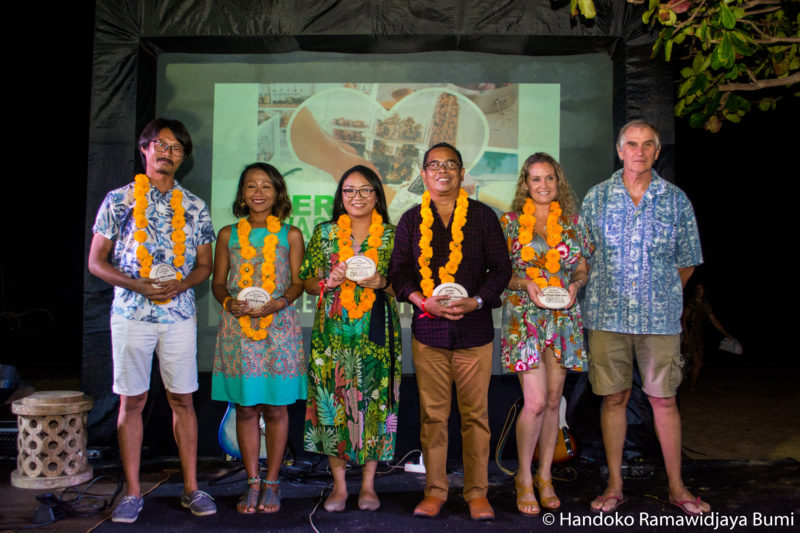 In the meantime, the guests were already provided with food and drinks and after a short music break all of a sudden the whole venue was blackouted. To surprise our guests the blackout was totally planned. Because the next program point on our Rundown was the LED Water Percussion.
After this impressive performance, the next Awards were presented and the MC invited Ms. Rili Djohani on stage to present awards to, "Academic for Clean Ocean" for SMP PGRI 3 Denpasar, next the MC, announced the Winner for this year´s Waterman´s Award Clean Oceans Diveathon Award Winner in the category "Best Clean Reef Initiative" the Bali Dive Resort and Spa. Then our both "Youth Role Models" got announced and Ms. Luh De Dwi Jayanthi and Ida Bagus Mandhara Brasika came up on stage. Unfortunately our this year "Youth Watersport" Award Winner Ms. Diah Rahayu couldn´t join us this time.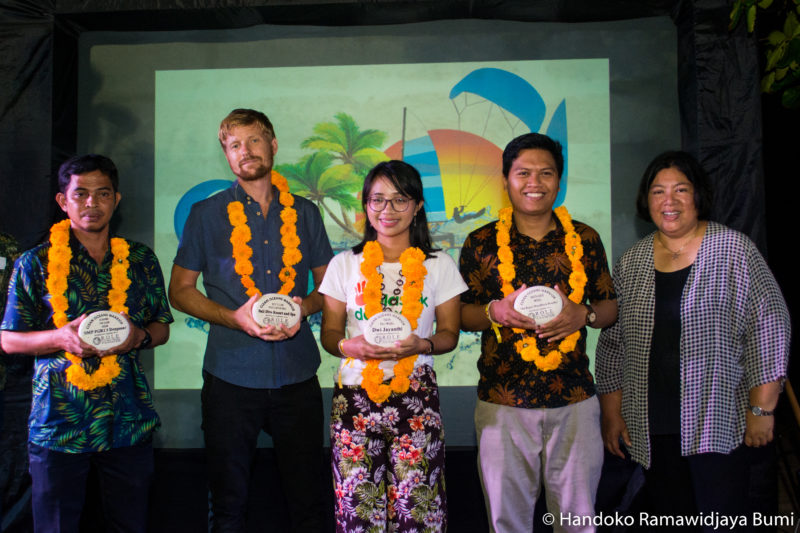 After a short break with live music, the award continued and the MC invited Mr. Rory Callaghan to come up on stage to present the last 4 Award Winners for this evening.
In the category "Best Local Initiative" was Gede Robi announced but unfortunately, he couldn´t make it. Our next Award Winner was I Wayan Gendo Suardana he won the Award in the category "Waterman of the Year" and all guests applauded loudly as he entered the stage. This year´s winner of the Waterwoman Award was the lovely Misses Jane Fischer. After all the Award Winners, it was time to announce this year's winner of our Timeless Photography art winner, Gerry Nolis.
After so much stage show, it was time to activate the guests and motivate them for our live auction, because finally, the goal of the night was also to raise fund, and Rory in his role as an Auctioneer did a very good job in auctioning the 5 Live Auction items.
Nevertheless, In addition to the live auctions, we had the silent and the online auction still running, and our diligent students were with their Raffel-Tickets the whole evening attentive to offer them among the guests.
Even the most beautiful evening has to come to an end, and after our last performance and the announcement of the Lucky draw Winner through Mr. Nicolas Ashby from Mayo Resort, we closed all auction activities and started to count.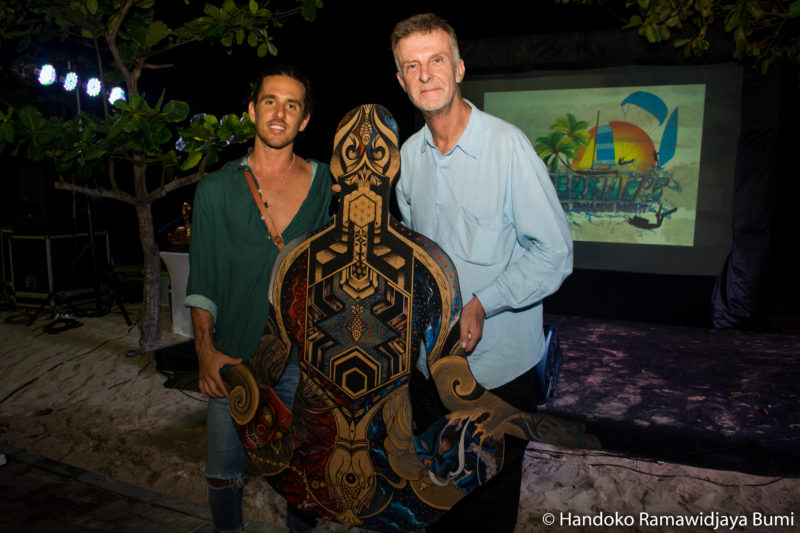 And then came the big moment everyone has been waiting for, the final fundraising amount of Waterman's Award 2019 is Rp. 396,123,762 !!! Thank You ALL for your support and generosity, we had a great time with you and hope to see you all together next year.