Watermans Week was a week full of water sports and water related events throughout the island.
The week was organized by the Non-Profit Organization R.O.L.E Foundation to raise awareness about
Indonesia's huge waste management problem and about how Water Sports needs Clean Oceans.
Also to finds and promote Role Model's for our Children
This year's goal was to raise funds through Waterman's Week to finance
the "Zero Waste to Oceans" Education and Demonstration Center in Nusa Dua.
Check more on www.rolefoundation.org

1.      OCEANS FINATHON
2.    ALOHA SURF FAMILY AND KIDS OCEAN AWARENESS AND FAMILY PARTY
3.    DEUS WRITE A SONG TO MOTHER EARTH AND DRUM CIRCLE
4.    EAST BALI SURF AND SAIL OPEN OCEAN HOBIE CAT 16 RACE FROM SANUR TO NUSA LEMBOGAN AND BACK. KIDS OPTMUS RACE.
5.    FUSION AUSTRALASIAN FREEDIVING CHAMPIONSHIP
6.    EARTH CAFE MOVIE WEEK
7.    TIMELESS PHOTOGRAPHY AS ART CONTEST.
8.   SURFBOARD AND POSTER PAINTING CONTEST.
9.   ISLAND MERMAID MISS MERMAID BALI CONTEST.
10. WATERMAN'S AWARDS NIGHT

WHO CLEANED UP the most trash off the reefs ?
Waterman's Week Bali 2016- Clean Oceans/FinathonWinner !
Oceans Finathon, is an event that we hope will grow and become more and more popular each year. Over the course of Water¬man's Week Bali, dive centers from across Bali have been competing against each other to clean up local beaches and reefs and prove themselves as thoughtful , conscientious businesses.
The winner of the competition is the center that managed to pick up and separate the most trash. The results were as follows: 3 rd Place- Nico Dives Cool; 2 nd Place- Joe's Gone Diving; 1 st Place- Easy Divers Amazingly, our winners Easy Divers made the trip all the way from the North coast of Bali just to attend our awards ceremony and receive their prizes. All of us here at ROLE Foundation got the opportunity to meet and speak with the Easy Divers team, headed up by Dive Master Dusan Repic, and we found them all to be incredibly passionate, inspirational people. As a reward for all of their hard work, Easy Divers were presented with a family-size water filter provided by our friends at Nazava, as well as other great prizes kindly donated by The Blue Azure, BaliAquaand the Marine Mega Fauna Foundation. Looking to next year's Waterman's Week, we look forward to working again with Easy Divers, Joe's Gone Diving, Nico Dives Cool and of course many of the other dedicated dive centers who gave up their valuable time to compete in the Clean Oceans Finathon.
The morning of July 2nd was spent teaching children water safety, paddling beach running and competitions. The evening was spent playing children's games on land, plus Rock and Roll for the parents at Aloha Bali Surf.
ALOHA BALI SURF/ PIT-STOP at Ungasan, Bukit Bali.
Jalan Uluwatu. FAMILY FUN and ROCK At Pit Stop Jalan Raya Uluwatu! Yummy food, great Music and amazing raffle prizes!!!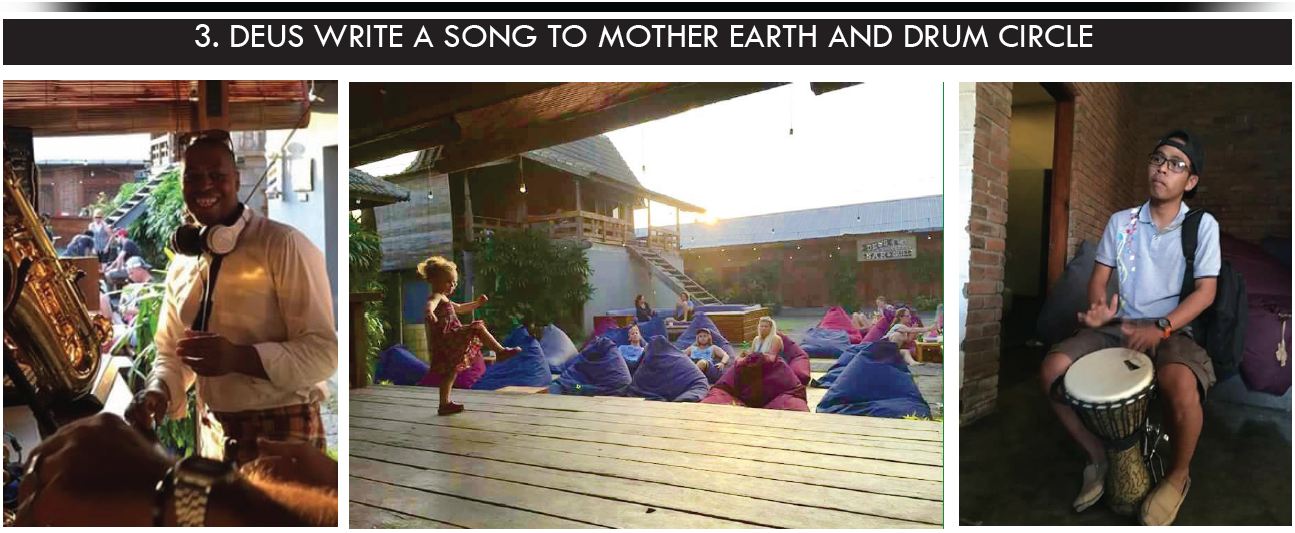 Jimmy's DJ and Sax, plus the sound of all the drums has come together to produce a peaceful song
For mother earth. Big thanks to Rodrigo and the Deus Team.

On the 9th of July 2016 – What a day of action.
After cyclone force winds, then on the day of, nothing.
OVER THE FINISH LINE
Winners are grinners. Join the Awards today at Segara Village, Sanur Resort
to see who won the Sanur, Lembongan, SanurHobie Cat race.
Open Ocean Hobie Cat Race from Sanur to Nusa Lembongan and return.
1st Place – KadekWinyana and GepalaSulaksana;
2nd Place – Made Budha and Olya;
3rd Place – Sutrisna and Irvan;
Trapezoid Hobie Cat Race
1st Place – Oka Sulaksana and BagusGopala;
2nd Place – Sutrisna and Irvan;
3rd Place – GedeSubagiasa and Candra Pertiwi;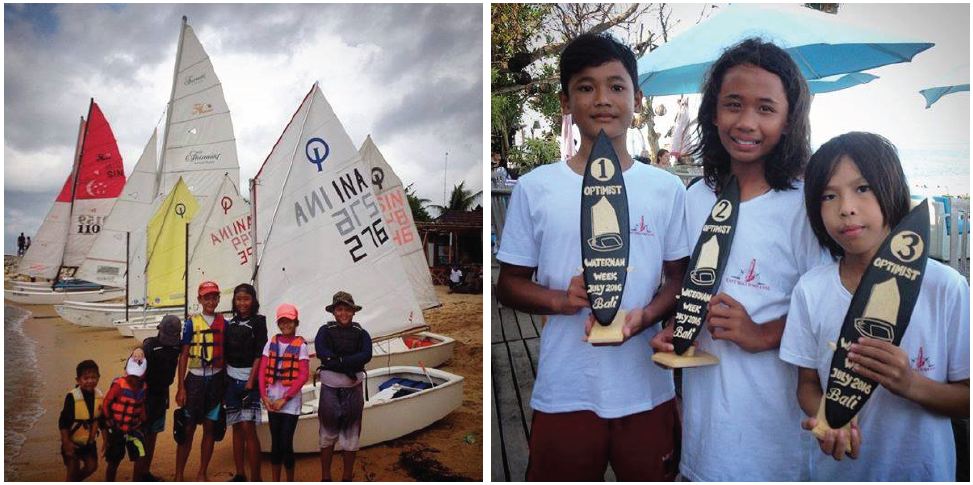 KIDS OPTIMUS RACE
Children Optimist Race by East Bali Surf and Sail.
In the 8th of July, 2016.
Kids Optimus Race winners
– Waterman's week, 2016
– East Bali Surf and Sail at
Fairmont Sanur Beach Bali.
Congratulations..

The 1st FUSION AUSTRALASIAN FREEDIVING POOL CUP 2016-Waterman's Week, 2016 Challenge held
on July 7th to 9th was a part of Waterman's Week Bali.
Held at the beautiful Fairmont Sanur Beach Bali and organized and managed by Fusion Freediving and Yoga.
A fantastic job was done by Agata and the Fusion Freediving team with support of the Nial and the Fairmont team.
A great presentation was put on by the Fairmont.
Thank you to all.

Winners in general:
Yvette Bezuidenhout from UK and Mikhael Dominico from Indonesia
This event has starters from all over the world.
Winners of each category:
Dynamic without fins (DNF) Female: Yvette Bezuidenhout, Male: Stanley Sradaputta
Static breathhold (STA): Female: Yvette Bezuidenhout, Male: Marc Guerrin
Dynamic with fins (DYN) Female: Yvette Bezuidenhout, Male: MikhaelDominico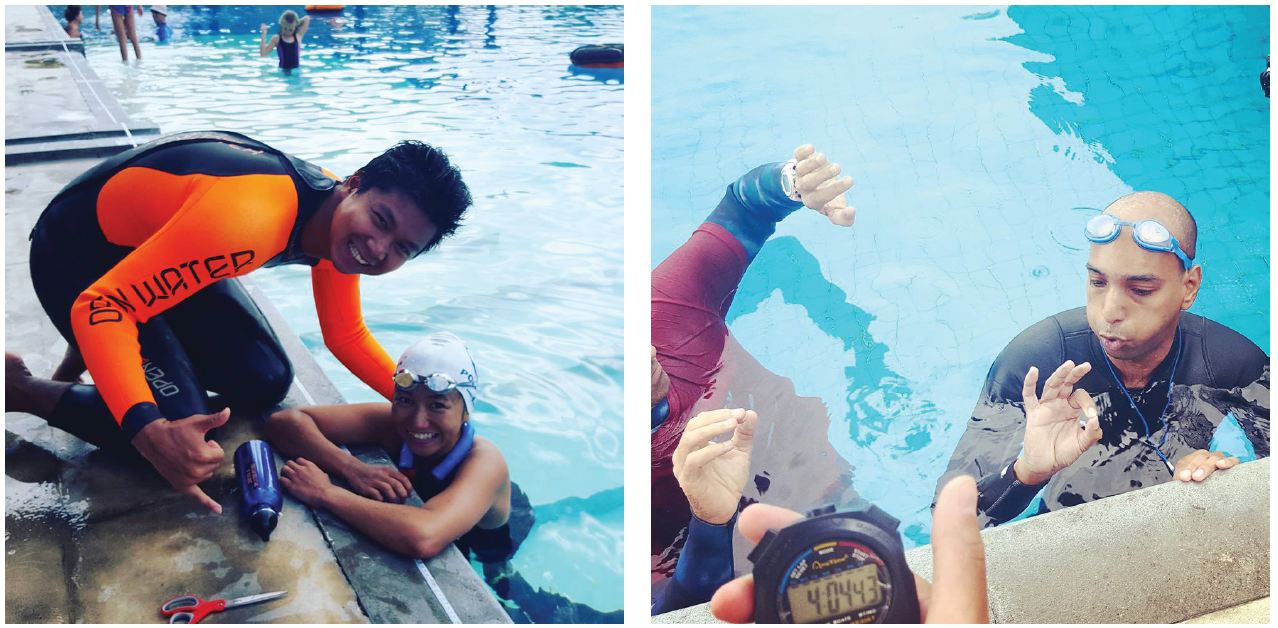 Relaxing night was had by hundreds in Seminyak and Ubud. Thanks Earth cafe for all your work and time. Divine Earth is an artisan, raw, vegan restaurant; an oasis of calm in the heart of busy Seminyak. Serving the finest nutrient-packed ingredients grown by environmentally conscious farmers, each dish is prepared with love and to the strictest hygiene standards. Located upstairs is the Divine Earth cinema club, screening everything from blockbuster Hollywood films to thought-provoking documentaries all in the relaxed atmosphere of a state-of-the art cinema.
The cinema is also available for private hire.
As a part from 4th to 8th of July for Waterman's Week Bali 2016 the Divine Earth together with Role Foundation Team, have made a selection of the classic of Surf and Ocean related movies that will be screening at this amazing Cinema in Seminyak. Cinema with Divine Earth Cafe, Seminyak. THANK YOU Earth Cafe for your great Waterman's Week, 2016 Film Festival.

Beautifully Framed "TIMELESS PHOTOGRAPHIC ART" for Sale. At the Role Foundation, Bali WISE Campus,
JalanSiligita No.22, Nusa Dua. Could be 50 to 100 years old. Mostly Balinese Landscape, Culture and Community in Black and White. Come check it out. Call Mike on 0819 3311 3229 or just drop in. Great pieces for your house and will help raise some money for our Programs. Waterman's Week, 2016 – The Mick Curley Photography, "Photography as Art" Challenge. Contested at the Beach walk Shopping Mall. The Winner of Rp 2 Million as judged by the Visitors to Beach Walk is the first photograph, No 101. Name : "Dadong Rare" Grandmother teach Granddaughters to weave offerings.
Theme: At Photos to be Timeless, Black and White. Meaning no machines or modern clothing or buildings.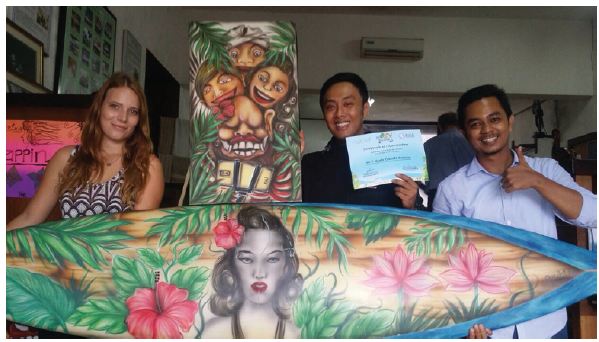 Surfboard and Poster ART at Boardwalk Shopping Mall on Kuta Beach Road. Go take a look. Nice Photography Art, nice Painted Art until Sunday, 8pm. Promoting Balinese/Indonesia Artists – Advancing skills and Sustainable Business – Role Foundation The Waterman's Week Bali 2016 and the Role Foundation team invite all to come to Beach Walk Shopping Mall, Kuta and vote on your favorite art/artist, photo/photographer! Let's support the Balinese artists!!!! HAPPENING NOW! At beachwalk Bali in Kuta! First day of Surfboard Art Competition!! Through the 2nd to the 10th of July you can see the exhibition at Beachwalk Shopping Center and vote for the best artist!!!


SIERRA ANDERSON WINS MISS MERMAID FINAL
On the10th of July, Miss Mermaid Bali 2016 Contest Finals at Byrdhouse
Beach Club! Our beautiful Mermaids Sierra, Sina, Sri and Dewi impressed the crowd with stunning poses at the beach and their presence on the stage. Every Final Mermaid Contes¬tant deserved the crown, but in the end Sierra convinced the judges and became MISS MERMAID BALI 2016.
Thank you very much to these beautiful ladies for competing and thank you very much to Chelsea and Island Mermaids for pro¬viding the wonderful sparkling mermaid tails and for organizing this event!





In the end total funds raise was RP 52 Million. Which was a small amount for all the work done.
But we had a great ocean environmental awareness week and great waterman and women were found for our children to follow their example.