This week we come back with the stories of 4 more strong women who relentlessly put their best efforts in supporting their families. Check out their inspiring stories below.
Laundry – Mrs Widia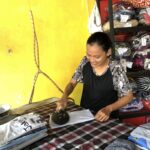 Widia Murti, who originates from Java, left her home town and her previous job as a furniture worker years ago to obtain a better life in Bali. Currently, she has been running a laundry business in Jalan Siligita, Nusa Dua, with her husband for 8 months. Mrs. Widia gained her knowledge of the laundry business by previously working afternoon shifts in a locally run laundry service whilst simultaneously working night shifts in a restaurant. Equipped with the necessary skills she quickly learnt from her time in the laundry service, Mrs. Widia was able to share her knowledge with her husband and open their own business.
This glimmer of accomplishment did not deter Mrs, Widia from continuing to pursue various ways to support her family. For example, for quite a while she continued to work night shifts in the restaurant where she used the opportunity to promote her laundry business to her coworkers. Due to this marketing strategy, Mrs, Widia's business continues to grow. The power of word of mouth promotion has helped her and her business significantly. As the business grew, Mrs. Widia finally decided to resign from the restaurant in order to work full time on her laundry business. She can earn up to Rp. 300.000-Rp. 350.000 daily and has a flexible enough schedule around the picking up and delivering of laundered items to look after her child.
Young Coconut Ice Warung – Mrs Siti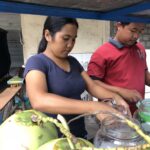 Siti Rohma is 26 years-old soon-to-be mother from Lumajang, Jawa Timur. She has been living in Bali for 7 years and has been running a small stall which sells young coconut ice and homemade snacks made of rice flour with her husband since mid 2017. Mrs. Rohma held a wide variety of jobs before she was married. After meeting and marrying her husband, the decision was made to move to the Nusa Due area in order to open a food stall.
Although her business's net income of Rp. 200,000 to Rp. 300,000 currently covers their living expenses, Mrs, Rohma dreams of one day expanding and developing her business into the culinary sector. Instead of selling the simple yet delightful coconuts, having a grilled fish warung where passerby can sample her creative recipes is not only a goal but a passion. Mrs. Rohma is eager to learn as much as she can about properly managing the finances of her business. With only the knowledge from her primary school education, Mrs. Rohma has faced and will continue to face challenges with the intricacies of successfully managing a financially sound business.
Warung – Mrs Jero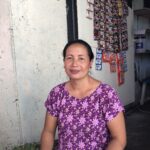 For a moment, picture yourself working from the early hours of the day until after nightfall. Although you do not make much headway, you do this to contribute to your family in the little ways you can. You do this because it is better than not doing anything at all…
42 year old Jero Tirta originates from Negara, western Bali. She relocated to Nusa Due when she was merely a child. As a housewife and a mother of 2, Mrs. Tirta spends her time running her household and caring for her family. Despite her hands being full, Mrs. Titra contemplated ways she would continue to manage the household whilst bringing in additional income. One year ago, with a drive of determination, Mrs. Tirta made the leap to open up a small stall in a nearby neighborhood. Although her stall did not have the capacity to sell all of the items she wished for, her variety of snacks, drinks and Balinese ritual materials were a start.
Balancing her stall's 12 hour operation and her household duties became a complex game which has taken a toll on the quality of life for Mrs. Titra. A toll in which reaps very little rewards. Mrs. Titra begins her hectic day with waking up before dawn. In order to set the day in motion, she cooks, cleans, does laundry and ready the children for the day. She then ventures out to the local markets to purchase her goods to sell. From 7am until 7pm, she is in her stall trying her might to earn enough income to better support her family. Within a 12 hour stretch, Mrs. Titra will only make an average of Rp. 40,000. This equates to Rp. 3,333 an hour which is about $0.22 cents and is not taking into consideration her time at the market or preparing her stall.
The realization that her income is not enough to cover even the simplest of daily expenses does not escape Mrs. Titra. Not in the slightest. When asked why she continues to run her stall when the profits are so minimal, Mrs. Titra responds with a certainty that makes us reflect on our own daily lives and routine decisions. She says that it is better to do something than nothing at all.
Cook and Sell Stall – Mrs Yuli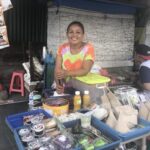 Mother of 5 children, Yuli Nawa Suprihati Ningsih is a Javanese woman from Banyuwangi, Jawa Timur. Residing in Bali for more than 20 years, she lives her life and runs her business passionately. She turned her passion of cooking into a prospective business in order to help her husband support the family financially.
She cooks and sells many types of foods such as nasi kuning ayam, nasi putih ayam, nasi sate, nasi goreng as well as various kinds of cakes from sticky rice cakes, spongecakes, doughnuts and deep fried snacks. Aside from selling her goods directly in her stall, she sells them to other warungs and shops in the markets nearby and also takes orders for various events.
Mrs. Yuli begins her day at 2 AM to prepare the cakes and nasi. At 4 AM she starts to deliver her food to the market and other warungs. Mrs. Yuli then opens her own stall at 6 AM. It doesn't take much time for her items to sell out. At 10 AM she heads home to start preparing ingredients and bakes her cakes from 4 PM to 11 PM. Having never been employed and only working with her eldest daughter, Mrs. Yuli believes that hard work is the key to success. She eagerly wants to learn more about baking in order to develop her business.
---
Written by:
Ni Made Dwi Dharmiyanti, or usually known as Dwi is a Balinese girl from Denpasar. Passionate about the environment and women empowerment, this final year Management Student decided to take her passion into action by joining ROLE Foundation as an Intern and volunteer in August 2018.