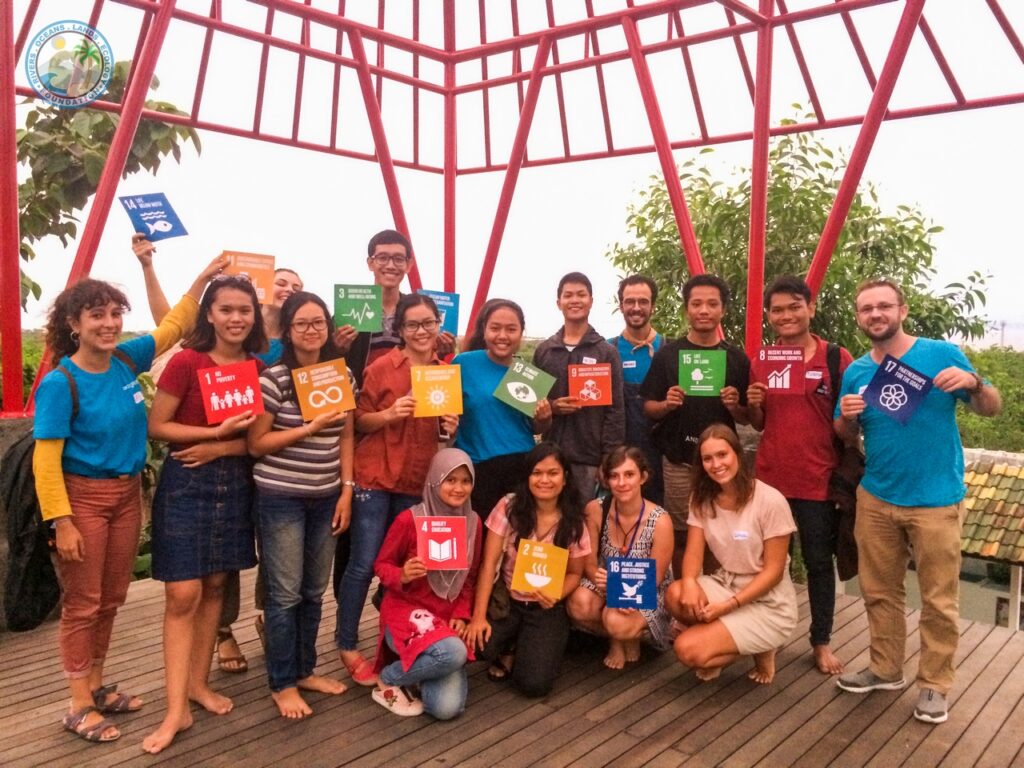 Friday Nov 30th 2018 we had Eco Youth event called Youth Talk in partnership with ACT Global. Around 20 youth across nations were gathered at Zero Waste to Oceans – Community Environment and Skills Center. Among them were youth from Spain, Greece, United Kingdom, Germany, Portugal and Indonesia.
Youth Talk itself is discussion platform between youth across nation about Sustainable Development Goals which involved People, Planet, Prosperity, Peace and Partnership. This event aims to find a common goals for each youth from different nations to work together to reach 2030 Agenda.
We discussed at first about culture and identity of countries. The youths were divided into three group representing country of Spain, Greece and United Kingdom without any members from aforementioned countries. They talked about stereotype that usually occur with these countries are mentioned. After that, the stereotypes were debunked by the youth originated from that country.
After that, they were grouped consist of 3-4 youth to discuss about Sustainable Development Goals that they focus on. We discussed gender inequality, food waste, zero waste lifestyle, climate change, education, entrepreneurship and economic growth. We also discussed about the solutions and actions that youths could do to reach Global Goals 2030.
Bahasa Indonesia
Jumat, 30 November 2018 kami mempunyai acara Eco Youth bernama Youth Talk bekerjasama dengan ACT Global. Sekitar 20 anak mua dari berbagai negara berkumpul di Zero Waste to Oceans – Community Environment and Skills Center. Diantara mereka adalah anak muda dari Spanyol, Yunani, Persemakmuran Inggris, Jerman, Portugal dan Indonesia.
Youth Talk sendiri merupakan wadah diskusi antar anak muda berbagai neagra mengenai Tujuan Pembangunan Berkelanjutan (Sustainable Development Goals) yang menyangkut Manusia, Bumi, Kesejahteraan, Perdamaian dan Kerjasama. Acara ini bertujuan untuk menemukan tujuan yang sama dari berbagai anak muda berbeda negara untuk bekerjasama meraih Agenda 2030.
Kami diskusi dahulu mengenai kebudayaan dan identitas suatu negara. Anak muda dibagi menjadi 3 grup mewakili negara Spanyol, Yunani dan Persemakmuran Inggris tanpa adanya pemuda dari negara tersebut. Mereka berbicara mengenai gambaran umum yang muncul ketika negara-negara ini disebutkan. Setelah itu, gambaran umum ini akan diverifikasi oleh pemuda yang berasal dari sana.
Setelah itu dibentuk lagi grup yang terdiri dari 3-4 anak muda untuk mendiskusikan Tujuan Pembangunan Berkelanjutan yang mereka fokuskan. Kami berdiskusi perihal ketidaksetaraan gender, sampah makanan, gaya hidup nol sampah, perubahan iklim, pendidikan, kewirausahaan dan pertumbuhan ekonomi. Kami juga mendiskusikan mengenai solusi dan aksi yang bisa dilakukan oelh anak muda untuk mencapai Global Goals 2030.